THE STORY OF SIMON PORTE JACQUEMUS: from selling carrots in Salonde-
Provence to selling haute couture in Paris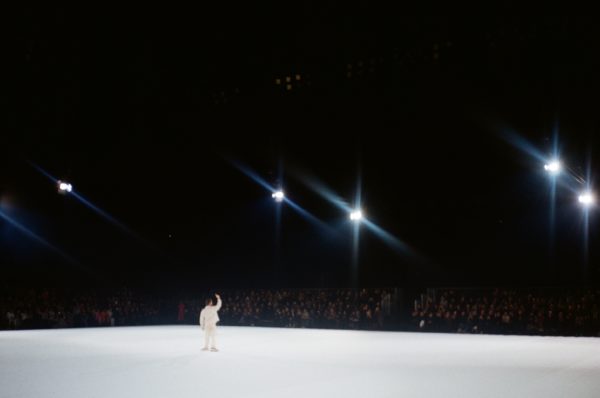 The founder of Jacquemus – Simon Porte Jacquemus was born into a modest
family of farmers, in a village in the south of France near Marseille. The Porte side
of his family harvested artichokes while the Jacquemus grew carrots. Simon once
mentioned in an interview that a significant portion of his childhood happened at
the local farmer's market – helping his mother sell carrots.
Nevertheless, despite his humble beginnings, Porte Jacquemus always dreamed
of Paris and admired Parisian life more than that of the Provence-Alpes-Cote
d'Azur. In 2008, at the age of 18, Simon went to Paris to study fashion design at
the École supérieure des arts et techniques de la mode (ESMOD). He left the
program before graduating for an assistant stylist position at Citizen K fashion
magazine.
The sudden death of his mother prompted him to pursue his career as a fashion
designer, motivated to create something meaningful in her memory.
At just the age of 20, he started his own fashion brand Jacquemus – his mother's
maiden name. Two years after the inception of the brand, he is invited to present
his collection at Paris Fashion Week. Jacquemus was able to get his designs
recognised by asking friends prominent in the fashion community to wear his
creations to events, like Vogue's Fashion Night Out in 2010.
"Lavender Show" and the perpetual references to 'Workwear'
Numerous Jacquemus designs hint to 'worker uniforms', be it Farmer, Mechanic,
Construction worker or Goldsmith. He describes this style as 'Jacquemus
Workwear', explaining in an interview: "Jacquemus workwear is not a New York or
American workwear. There are many workwear silhouettes and details everywhere.
But French, playful, funny one."
The show that grabbed the world's attention dubbed the 'Lavender Show' took
place in June of 2019, in the middle of a blooming lavender field in the Provence
region in the south of France. As Jacquemus himself referred to the show's
location, "we were inside a Provencal postcard".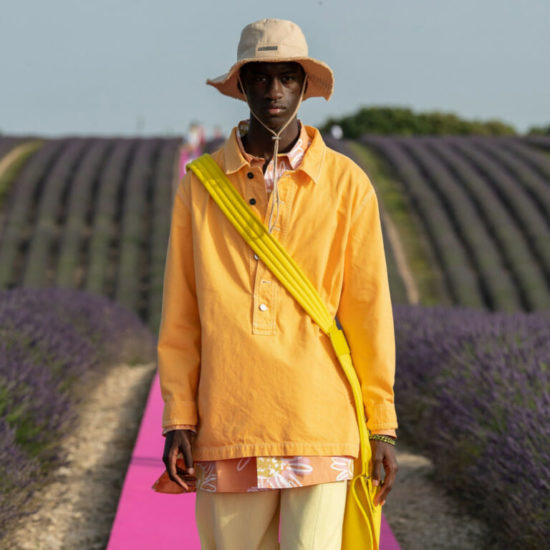 The models walked down a bright pink carpet, surrounded by what seemed an
endless fields of lavender. The idea for the pink carpet lying amidst a natural
landscape came from a series of paintings by David Hockney. Despite the
minimalistic set-up, the backdrop was so mesmerisingly picturesque that many
influential fashion publications noted the show.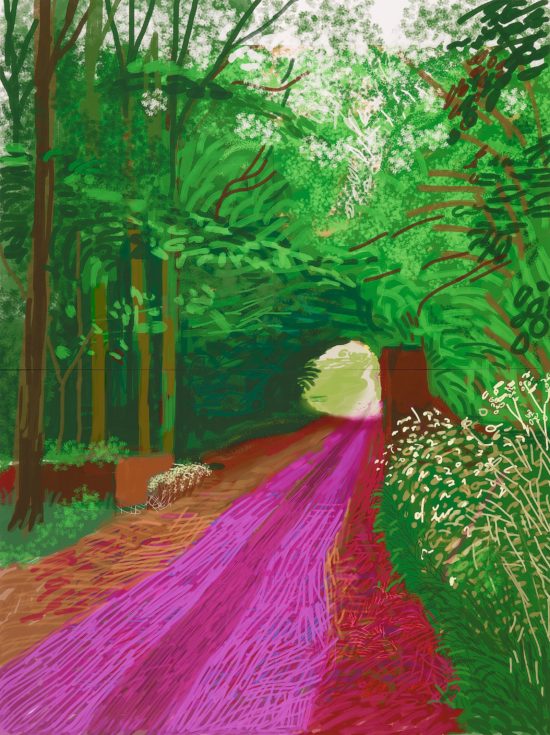 Genuinely remarkable was how organic the oversized, layered even slightly
industrial 'workwear' silhouettes looked on the backdrop of the lavender field. The
low-key juxtaposition of structured tunics and jackets with flowing printed pants,
shorts skirts brought the younger designer international acceptance. And the
comically small accessories – the 'lipstick holder' bag, the 'praia' tool bag and the
'le chiquito' took the fashion world by storm. His choice of prints displayed
Jacquemus' love for classical art – Cézanne's, Monet's and Hockney's paintings
were featured as prints on his creations.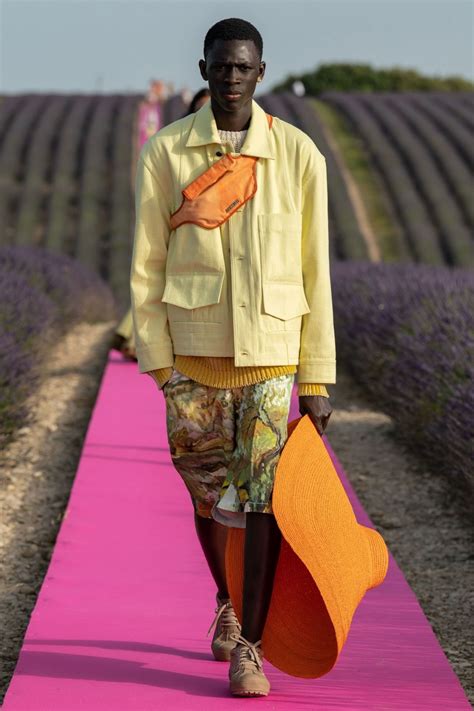 Many critiques were sceptical that Jacquemus would be able to top the internetbreaking
success of his lavender field show, but the 2020 runway presentation
proved these sceptics wrong. The 2020 fall collection displayed at the vast 'La
Defense Porte' certainly did not disappoint.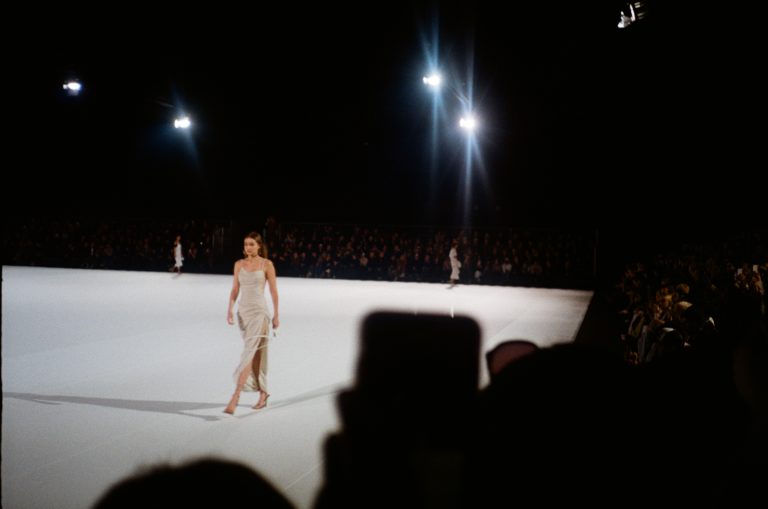 This time around, Simon decided to add an unexpected 'sexiness' to the garments
with cropped tops and bras, wrapped micro-skirts, thigh-high boots. The current
tycoons of the modelling world – Gigi and Bella Hadid both appeared in midi tightfitted
sheath dresses cut to accentuate every asset. The collection revealed an
array of "relatable going-out clothes" girls worldwide fell in love with. Yet, there were
also oversize blazers and roomy floor-hitting coats too. One must note the
exceptional tailoring and layering approach to the street-style men pieces. The
palette Jacquemus chose for his recent assemblage was again pastel heavy, with
predominantly nude and beige tones. The young designer pointed out, "I think we
have to get back to something more pure and minimal, and I'm making clothes that
will last."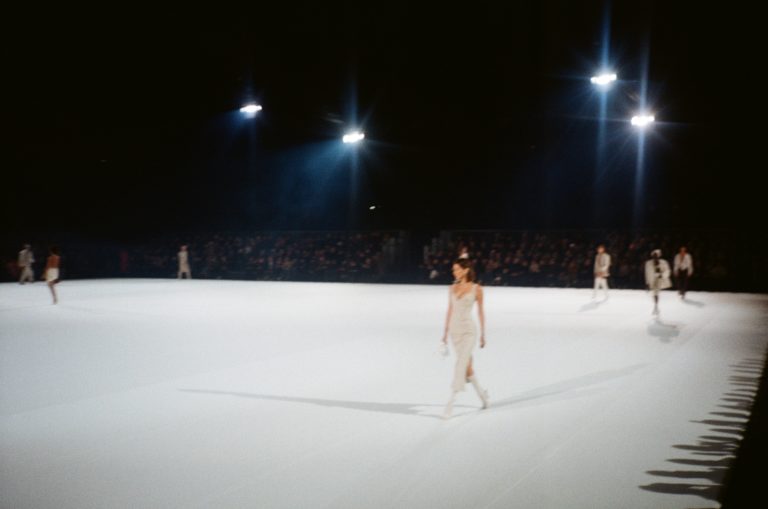 Despite the fact, Jacquemus currently lives in an apartment in Paris he still resides
in Mallemort (the village he grew up in) for a good deal of time—at least in his
imagination. Simon has been pouring his profoundly personal life story straight onto
his runway shows, untouched by self-consciousness or refinement. He tells his
story how it is, no more no less. The sunshine of southern France may flow from
Jacquemus's heart and into his twisted and deconstructed tunics and shirt dresses;
which might be why his collections have this 'raw' quality to them, perhaps as
unrefined and raw as the produce he grew up around.
The main information source for the article was this interview: