"Si tu m'enerve, je retourne au Senegal!"
Right from the moment I set foot into her courtyard, she embraced me. Her name is Senegal, and she is so many things I am going to share with you on this article so you can pack bags and get ready for this trip. The one thing I can tell you before we continue is, once you get in, you will never stop going back.
About 14 years ago, my girlfriend invited me to go and visit her in Senegal. During that first trip to Dakar, I got to showcase my first 'fashion meets music' soireé called FRESH at the British Council in Dakar in 2008 successfully and the rest is history. This was my great opportunity to dive into the vibrant-buzzing-yet-colourful country; a country on Africa's west coast with a rich French colonial heritage and also one of West Africa's most popular and safest destinations. During my 1st trip there, I spent my stay in the heart of its capital, Dakar, a city famous for its rich artistic & music culture.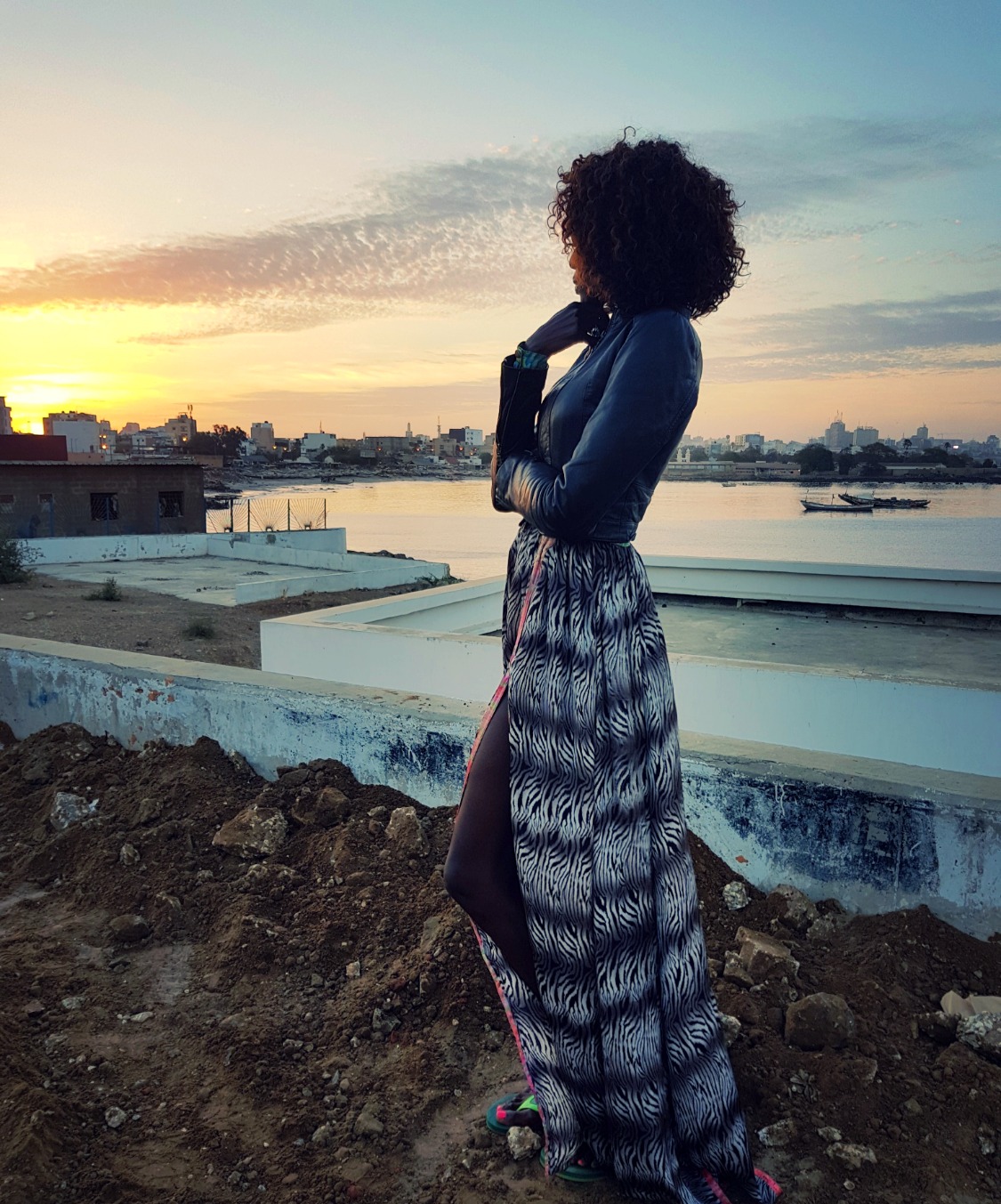 The vibrant city of Dakar is one of the chief seaports on the western African coast located midway between the mouths of the Gambia and Sénégal rivers on the southeastern side of the Cape Verde Peninsula, close to Africa's most westerly point. The city's name comes from dakhar, a Wolof name for the tamarind tree, as well as the name of a coastal Lebu village that was located south of what is now the first pier.
Unlike my very first previous trip filled with too much partying to enjoy anything else in the city, I earned myself another opportunity to visit and experience Senegal two years ago in a higher sense of awakening. As we continue to evolve day, by night, by month and through the years, our perceptions change to allow our senses to be heightened while our vision gets clearer so that we can be in a better position to experience and appreciate life's offerings with more clarity and enthusiasm while soaking up every refreshing detail.
1. The warm blue sea vibrations
According to Richard Shuster, PsyD, clinical psychologist, blue has a profound calming effect on people. "Staring at the ocean actually changes our brain waves' frequency and puts us into a mild meditative state."to crown it all, the water is warm enough.
I am a water baby who thrives by the sea, however there are only so many seas I get to swim in without worrying about the water's temparature, like this one.
Besides the beautiful beaches, rocky cliffs, clear water, exotic sunsets and midnight sea-snacking around my favourite beach spots, I constantly indulged in the experiences around the cool beach spots located on the small cornices of Almadie for food, chill, calm and a breath of fresh air during the day, sunset, or midnight sea-side snacking in some of the cool venues including Marina Bay, La Mer à Table, Chez Fatou, Ngor Lounge, Sharkys.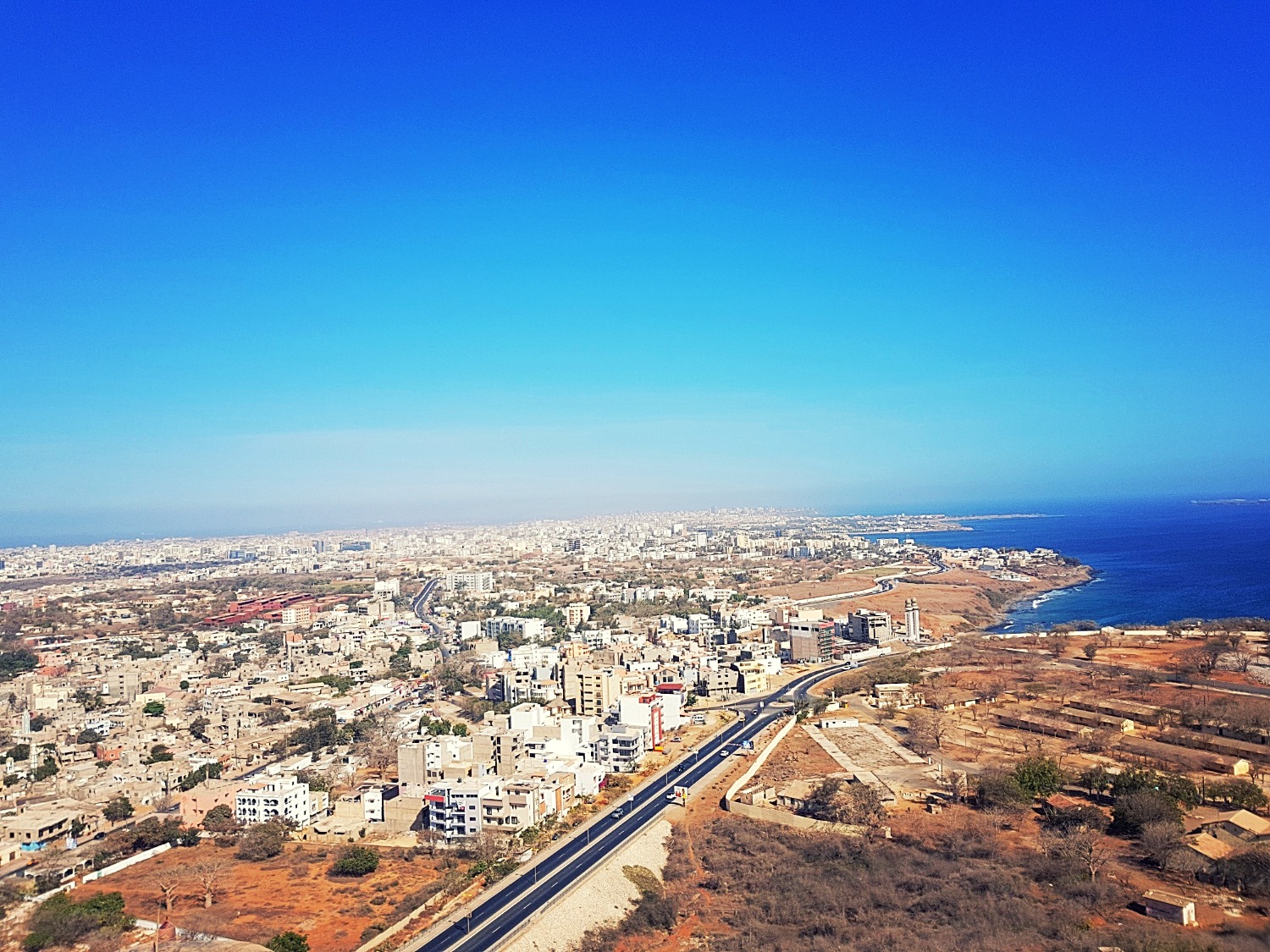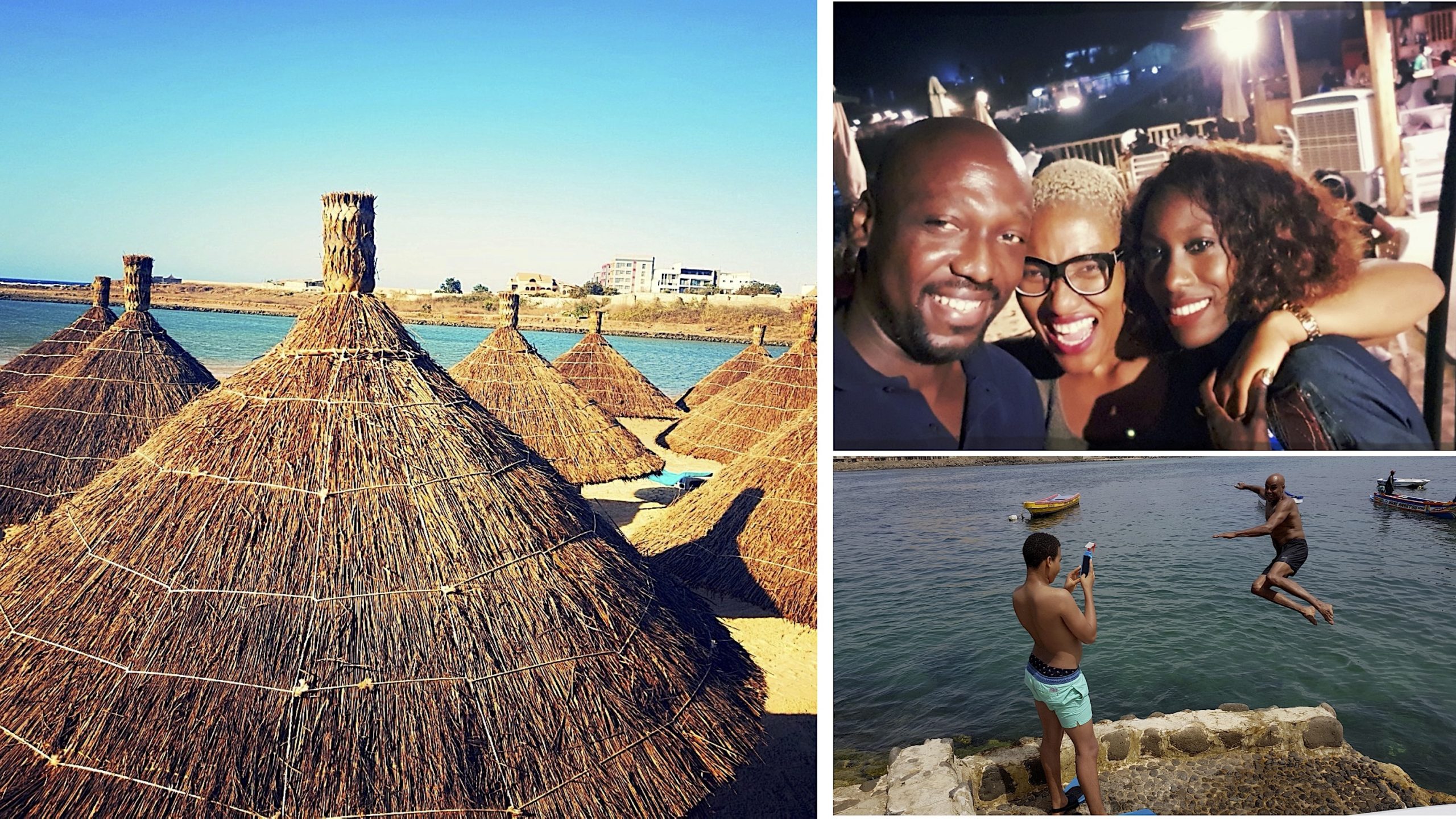 For higher-end and higher-spend Sunday lunch buffet & drinks till the sun goes down and the moon comes up, Terrou-Bi hit the spot, while an ambient dinner, at Alkimia brought us home.
Then of course the local spots right by the beach front of like Yoff Diamalaye knocked my appetite off on a great start-to-finish because this is where I had the best dibi in town complimented by an elegant bottle of Italian Wine. Besides all these beach spots, there are islands like Ngor in the north of the city that I also got to enjoy. Île de Gorée, Vivier and Secret are some of Dakar's best surf spots and are accessible to explore along many more exotic beaches within and away from Dakar.
2. The Musicology
That April, I got to visit the capital city of Senegal, Dakar during La Biennale. I also got to visit Saint-Louis for the St Louis Jazz Festival; a 3- day-overdose of beautiful sounds from across Africa and beyond. With the live music scene blazing on fire like music just run out of fashion, Saint-Louis, an old colonial town formerly the capital of French West Africa was the place to be.
As I opened my heart to receive all the beautiful music flowing through the different cites, I also got a chance to share my music 'KenSoul' at the Djoloff Boutique Hotel. Right before La Biennale.
The Cave @ Le Djoloff
Liz Ogumbo Live at The Cave @ Le Djoloff
What a bliss-filled evening at a-one-of-a-kind cave; an underground jazz bar in Le Djoloff which I revisited to share my KenSoul. Generally an hour is a good show performance, however in Senegal the show never ends. For the 1st time ever, I performed for almost 2 hours non-stop with my lovely audience still waiting for more. This was my second show at the cave and if I could, I will do it again and again.
Liz Ogumbo Live at Phare des mamelles
Located on the highest of the Deux Mamelles , a pair of prominent hills in Ouakam, a suburban commune of Dakar, Les Mamelles Lighthouse is a strategically important lighthouse situated near Cap Vert, the westernmost point of Africa, on the outskirts of Dakar the capital city of Senegal and has been described as "one of the world's great lighthouses, guiding ships around the western tip of Africa.
I have had the privilege to visit the light house twice within my two trips to Senegal on my April, trip, we visited the Lighthouse for a Friday night party where we let our hair down, put on our dancing shoes and enjoyed a great evening of food, wine and dance under the stars.
Following shortly in July, I spent my 40th Birth-soirée on the 26th of July singing my heart away under the stars to a beautiful audience and KenSoul was served at Phare Des Mamelles
Thanks to the Music in Africa (Senegal) team for an interview prior to my shows with a stunning follow up review after my performances. Senegal is a musical explosion happening minute-by-minute while granting you access to every sound you want to experience. If you seek the music, you will find it all forms including my favourite mbalax, jazz, reggae and much more.
3. The cuisine culture
From my friend's house- helper, Agnes who cooked up a storm every single day that set me on a 'Christmas-in-July,' mood, to my favourite Senegalese dish, Thiéboudienn (chep-bu-jen), good food in Senegal never ends. This is rice with fish cooked in a tomato sauce with boiled fish and a few vegetables (carrots, cabbage, and green peppers, yam, squash, plantain etc). It takes about 7 hours+/- to prepare properly and originates from the city of Saint-Louis. As you indulge in Chep, you may have to measure your intake, otherwise you could keep eating plate after plate without control.
My other favourite latest discovery from the local menu is Dibi; boldy-yet-elegantly spiced roasted mutton on over coals or kissed with wood-fire smoke, hacked into pieces, and served with grilled onions and mustard, and maybe bread on the side. God Knows I am not fond of mustard and neither do I enjoy bread on the side of such an eloquent rack of mutton, but either way, it does'nt even matter. When this dibi was served to me, I cleared it up like life my life depended on it. I have to say that out of all the food I love to explore locally and globally, this has got to be one of my favorite dishes. If you like mutton, this will blow your palate away.

They say, you cannot visit St Louis and leave without experiencing crêpe. So while in St Louis, I got to experience some of the best of Senegal's crêperies at La Crepe Saint-Louisienne and so should you on your next trip out there.
4. La Monument de la renaissance
It is fact that in every city there are beautiful breath-taking monument, however 180 steps up later when I got to discover the story behind her, she became one on my faves. This $27 million dollar African Renaissance Monument built overlooking the Atlantic Ocean in the Ouakam suburb is the tallest monument in Africa. Standing high at 49 meters tall, this bronze statue of a man, woman and child symbolizes defiance and future prosperity and is located on top of one of the twin hills known as Collines des Mamelles, outside Dakar, Senegal.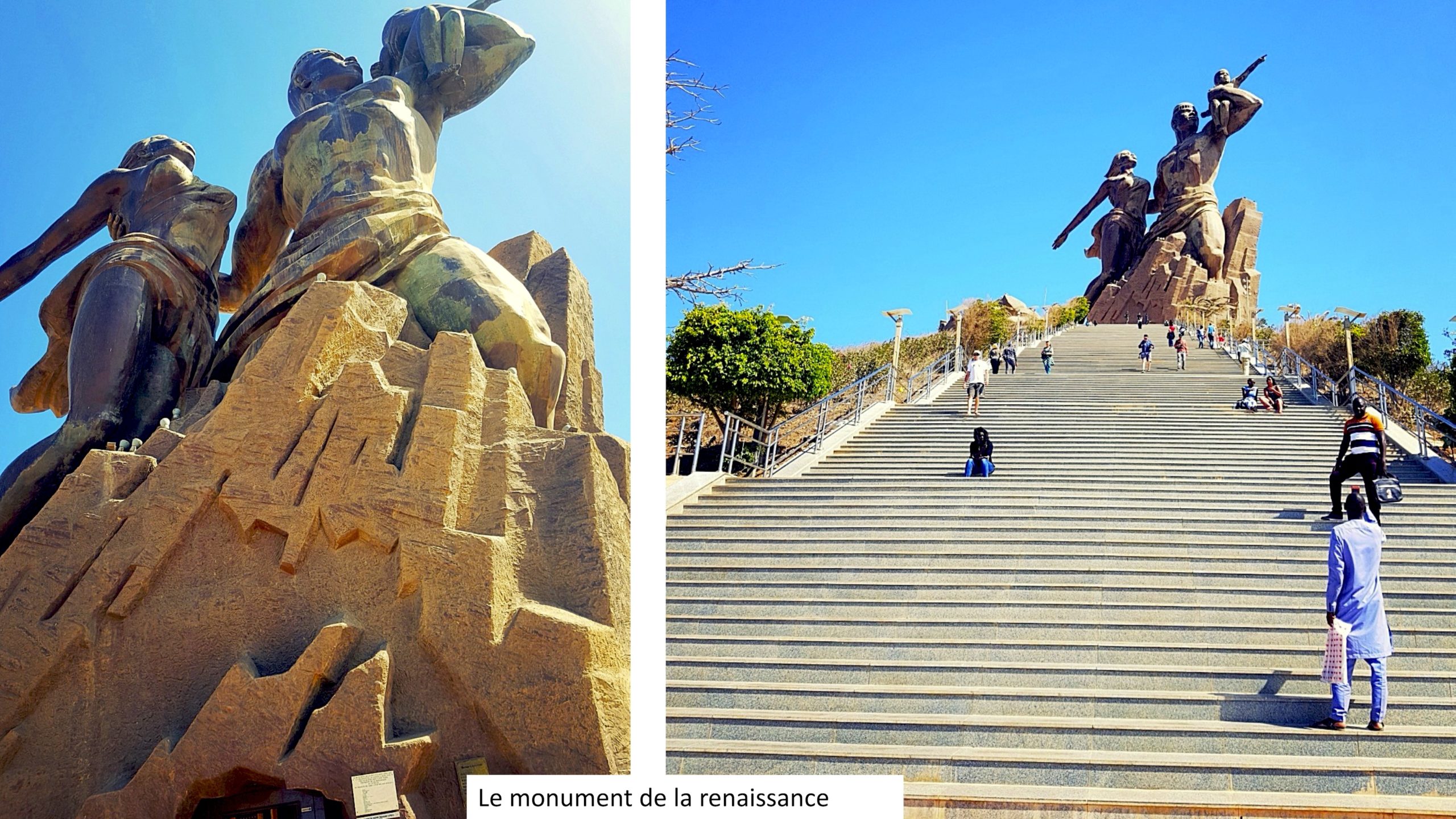 Once I made it, climbing up 180 steps all the way to the top, there was an elevator inside that took me all the way up to view the statue all through to the top along with a magnificent city view from all angles.
5. An African Art hub
My timing in Senegal was spot on, allowing me the opportunity to experience an artistic explosive over-dose of art and culture during La Biennale in May. Dakar's never-ending art also features the esteemed esteemed Musée Théodore Monod and the ancient Médina district in Dakar, a neighbourhood that has welcomed street artists from all over the world to practice their craft in an open sky museum.
.    
Art Market by Ngor Island
They say art comes in different forms, one morning at the beach right behind Terrou-bi, my friend introduced me to another form of artistic expression. Yes it was art alright, but differently expresses by the beach artist who described his work as 'cemetry art' when translated from french to English.
As we approached his beach art gallery moving closer and closer to him, I became a little worried and unsure of moving into his art world but I held my tough and allowed myself to be present and open to experience his art. This beach artist collects anything he finds in the sea or on the shores and recycles these items into something 'artistic'. They may be dirty, but at art is art and I congratulate him for converting what you and I would consider 'rubbish' into art.
There is so much more to explore through Senegal moving through to the rest of the African continent with so much love in the air. Even though my skirts are way shorter than Fatou's skirts, when I arrive into Dakar right through immigration into the city, majority speak to me in Wolof; my official Senegalese name is 'Fatou'.
And as you you wine lovers like myself, finding good wine in Senegal affordably was not easy, however, if plan to take a trip to Dakar, Africa Gourmet in Alamadies has a great selection of wine.
On that note, the buzzing nightlife that sets off in the morning, the rich history and detail in the arts, the cuisine that feeds my soul, the musicology that keeps me on the freestyle mic sessions, Senegal is the place to be. I wish you all the best in your quest to hit this city and experience bliss through culture, music, sea, good energy, the sun, the moon, the stars, dibi, surf, bask and maybe the opportunity to fall in love again.
Yours fabulously,
Multidisplinary Creative Entrepreneur,